Continental Rail Corridor
1/PIB HH Continental Rail Corridor –2/PIB Aerodynamic 40t axle Iron Ore and Coal Heavy Haul "HH" Wagon – (World's most efficient) –3/PIB Steel Complex Design 15-20% –4/PIB Slab-Steel & Container Ship "worldwide patent pending" lowers current freight rates by up 50% and remains profitable with primary cargoes each way both to and from Australia. 5/PIB E-W Continental Rail Corridor coupled with a Federal Government Communications Licenced fibre-optic cable will provide fully automated optimised control of the rail and mines using state-of-the-art communications reducing production and operations costs (productivity gains) by as much as 15-30%.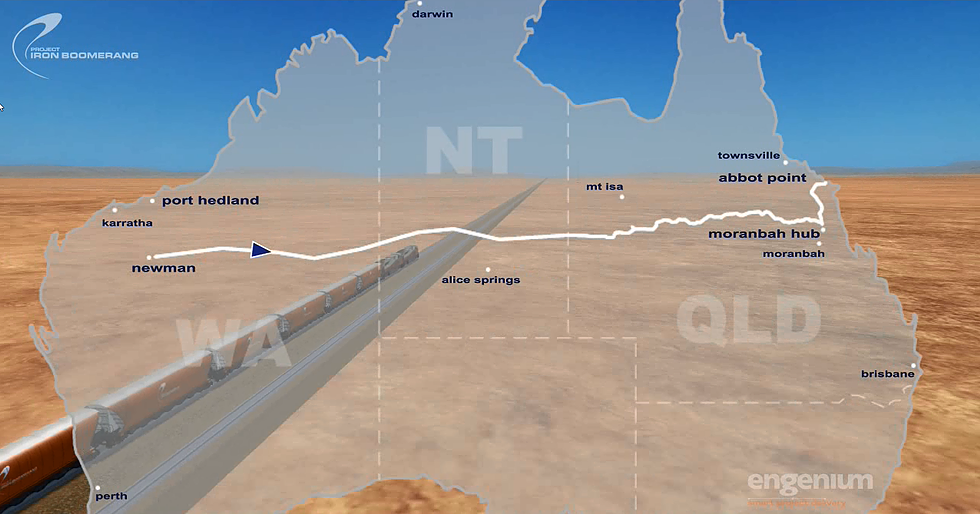 ---
Continental U-Rail 20% payload each way cost efficiency gain for a better freight rate.
Poised to be one of the biggest construction challenges in the nation's history, PIB will link the Pilbara iron ore mines in Western Australia with Bowen Basin coal mines in North Queensland via a E-W 3,300km rail line which has a payload each way producing a World's Best Practice 20% U-Rail Competitive Efficiency/Productivity gain. Only one ore will travel the continental rail distance ex mine gate to the steel complex stockyards.
Global Steel-mills will locate, construct own and operate 1st stage steel plants at each end of the continental line to manufacture slab steel. 5-mills x 4.5m tpy each = 22m tpy each for a PIB total of 44m tpy slab steel.
The project's primary objective is to service and facilitate the production of Ausralian made slab steel for further processing transfer and/or export, thereby significantly reducing the quantities of seaborne bulk iron ore and coking coal (and empty ship returns) by 3 times to smaller slab steel carrying ships accessing both the Suez and Panama Canals 3-4 times less sea distance than the bulk carriers with their empty returns. PIB Productive Supply-Chain Model efficiency against current operating practice produces around 15-20% gain.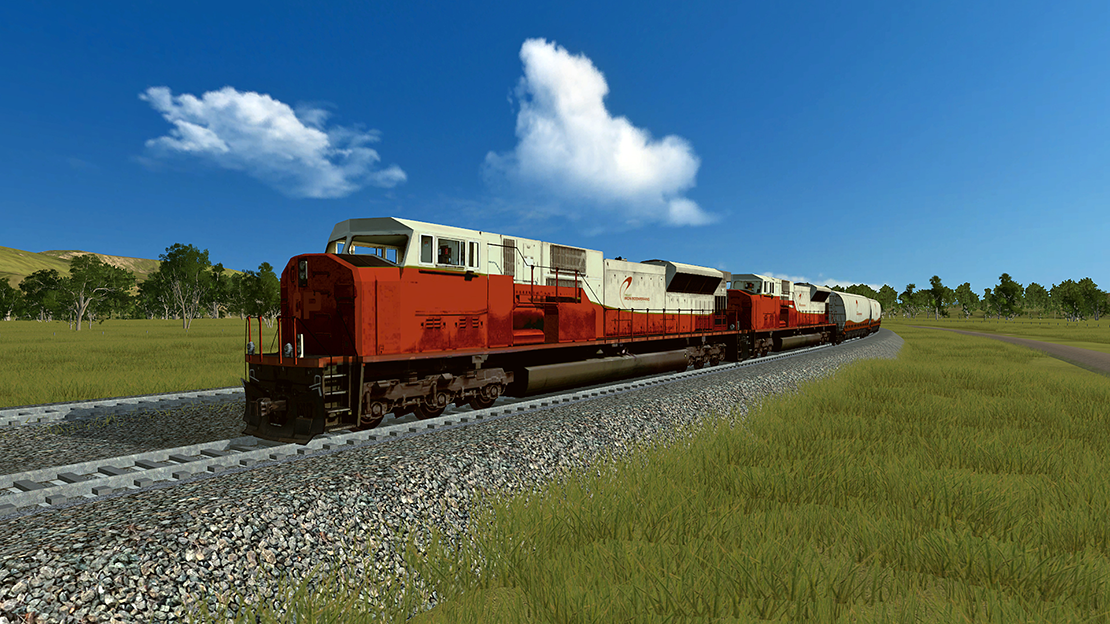 ---
Heavy Haul Aerodynamic Lidded Wagon : 10-20% Productivity/Efficiency gain
The Project design incorporates using modern, high capacity fuel efficient locomotives, environmentally friendly, closed lid wagons where compatible with existing infrastructure capable of delivering greater payloads per train at lower cost per tonne from mine to steel complex or port.
The proposed use of closed lidded coal wagons eliminates dust transit dispersion being environmentally desirable increasing efficiency through reduction of aerodynamic drag thereby reducing locomotive diesel fuel usage. Identified PIB Wagon Productivity gain efficiency against current operating world's-best-practice "WBP" producers a leading 10-20% net gain contribution to the supply-chain.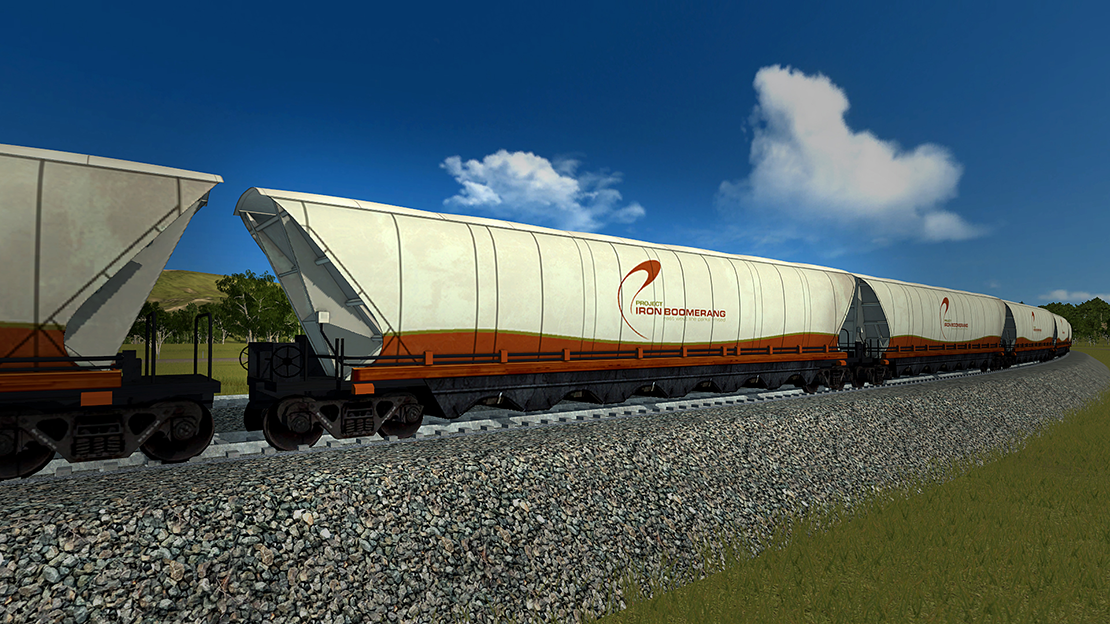 ---
PIB Steel Complex Design
The development of a Steel Park will allow PIB to approach "world's best" productivity benchmarks for slab production. A PIB Study Report indicates WBP sustainable Operations/Production Productive Efficiencies of 15-20% under the PIB concept and strategy.
Major Supply-Chain and Production Operations consolidations under the PIB model.
Build them like a Ford Car 10 PIB Standard Model 1st stage Iron & Steel Making Plants - Modular Constructions saves major CAPEX Plus shared services five steel plants sharing one Power Plant - Coke Oven – Oxygen – stockyard – water/air treatments etc saves billions in stand-alone CAPEX.
PIB GHG reductions apparent against WBP steel plants of around 25-30m tpy.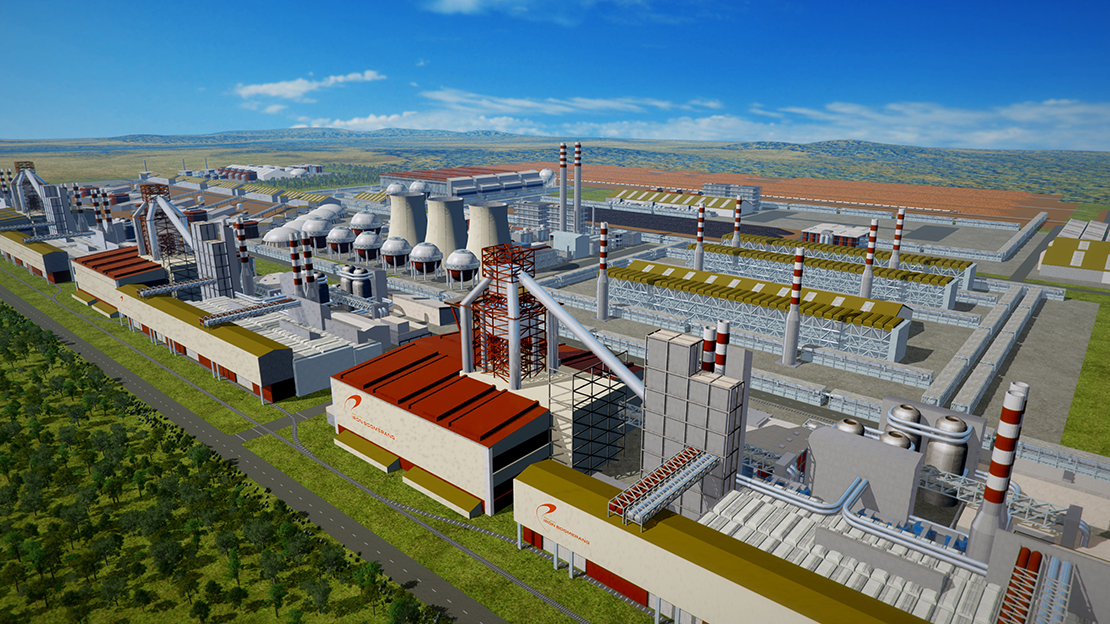 ---
The PIB Slab Steel and Container Ship
Ours is a special purpose ship, uniquely designed, built to service and vastly reduce empty ship returns (freight productivity gain effciencies) in two major Australian sea freight sectors Resource Bulk Carriers and Dry Container Ships to and from Australia which will complement each cargoes better freight rates.
For the PIB 10 - 1st Stage Steel Mills producing 44m tpy of slab the ship and PIB bulk slab rate effciency reduces present cargo rates by more than 50% against current practice (indicating $900m p/a sea freight saving or $90m for each steel plant). Likewise for the Australian container trade expected, sea-freight reduction by 20-30% for importers and exporters.
Currently the world's biggest bulk carrier ships export Australia's two primary iron and steel making ores (Iron ore and coking Coal) from both ends of the continent to industrialised developing market and major trading nations, mostly returning 100% empty to the world's biggest bulk loading ports at each end of the Australian continent, enabling loading into Panamax and Handymax ships which can access much shorter return sea journey distances (efficiencies) through the Suez and Panama Canals and the majority of world's ports.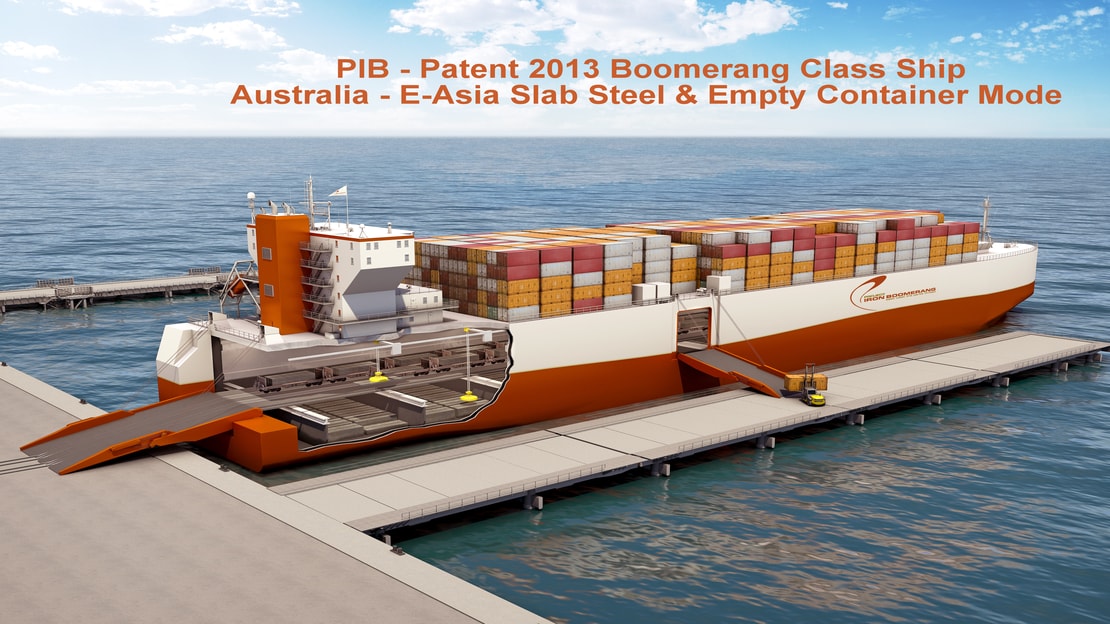 ---
The PIB Continental HH Rail and Communications Licenced Corridor.
PIB - EWLP intends to build, own and operate a 3,370km open access, multi-user, multi-purpose infrastructure corridor from the Port of Abbot Point through to the coal mining regions of the Bowen and Galilee Basins and to the North West Minerals province near Mt Isa to the terminus Steel Park located at Newman in the Pilbara Western Australia.
The Project will facilitate EWLP's vision for an open access freight Corridor, which is justified for the compelling economic and community benefits it will provide, including the following.
Services the doorstep of all mining tenements delivering optimum HH Rail and Communications economic efficiency to all users.
The entire Corridor incorporates advanced train control signalling on a common shared platform optimizing freight efficiency for the transcontinental developing mines and PIB HH Service Rail Plus Isolated Communities benefiting substantially.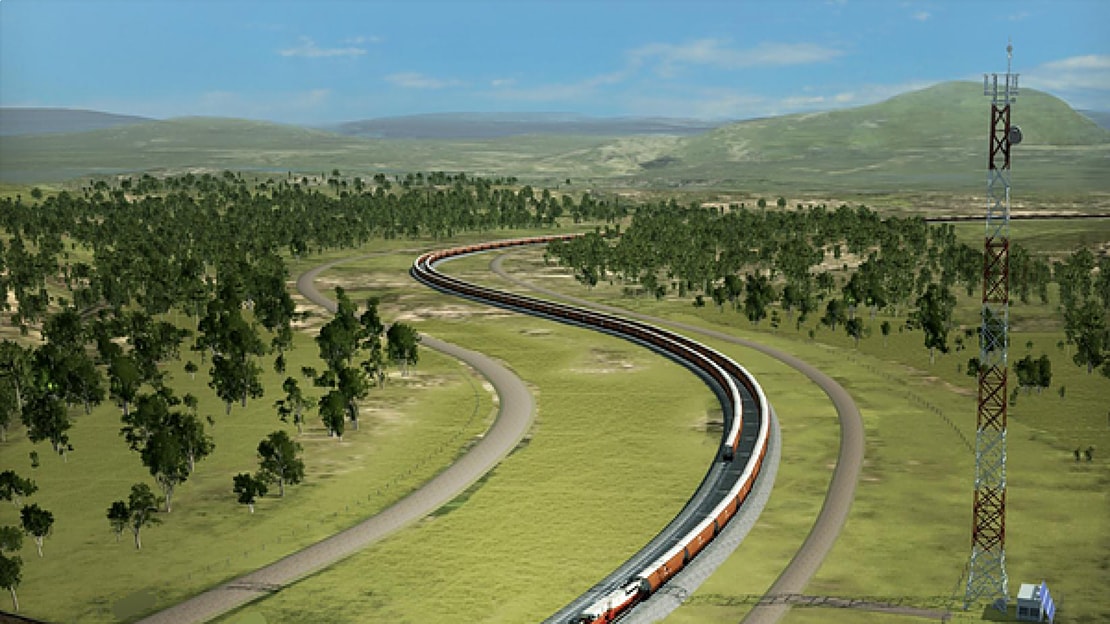 ---